The most important rule for an Apprentice Consul is simple: Don't get involved with daemons. Well, Piper is planning to break that rule — big time.
After a near-deadly scandal with the Sahar Stone, she has the chance to return to the only life she's ever wanted. All she has to do to keep her Apprenticeship is forget about Ash and Lyre. Ash might be enigmatic and notoriously lethal, and Lyre might be as sinfully irresistible as he is irritating, but they're not bad for a couple of daemons.
There's just one problem: Ash is missing.
Really, she shouldn't risk her future for him. He lied. He betrayed her. But he also saved her life, damn it. Wherever he is, he's in trouble, and if she doesn't save his sorry butt, who will? But with every dangerous secret she unravels, each one darker than the last, she slips deeper into Ash's world — a world with no escape for either of them
Complimentary copy was given for a honest review
5/5 Must Highly Recommended series
Cover: One of my favorites and the author kept the same through out the series
Genre(s): Fantasy, Urban Fantasy, Post-Apocalyptic, Young Adult, Teen (16+)
Romance
: Fizzling ready to explode! Why! I'm going to blame it on 'taking it slow', you know to get to know each other better! Haa
*The blurb does not do justice for what goes on in this book!
"...
she slips deeper into Ash's world — a world with no escape for either of them"
I'm ecstatic that I didn't have to wait long to indulge in book two of the
'Steel and Stone'
series!
Ms Annette Marie delivers another action pack fantasy that would make a reader wanting more!
I know I did!
Nothing like attempting to fight your way out of a deadly situation while trying not to flash people. -Piper
Where to begin?! Book two continues where book one left off, Ash disappearing after the Sahar's recovered. Piper makes it a mission to find where Ash has gone with the help of a devil-lish succubus Lyre. Piper gets herself in a jam again, but not just any child plays type of problem. She's a prisoner of Samael, Hades Warlord in the Underworld! Prisoner, she endures much pain and torture for Samael's wishes, control of the Sahar. Piper must choose to either try and save herself from the grasp of the Warlord or attempt to save Ash and herself without getting them both killed.
"Asphodel. The Hades family estate in the Underworld. It's more of a small town than a single residence. Hundreds of daemons live there, including Ash."
There's so much more to this book, packed with surprises but just giving a intsy bit away will be a spoiler and ruin the suspense and build up to an amazing read! Middle of the book I did have a moment where I was like wait what...BUT I assure you, everything is answered by the end of the book. 'Bind the Soul' was a bit more complex to read than 'Chase the Dark'. The author added new characters and another world we visit. I wish there was more of a back story to the Underworld...(that may just be me not wanting the story to end! *evil laugh)
I must admit (my head down in shame) Piper. Piper! She did hit a nerve with me in this book. I got frustrated at her at times. I wanted her to jab more throats, take them all down! Then I reminded myself, she is after all only half daemon and doesn't have super powers! That's what makes an author an amazing writer when they evoke emotions and feelings as such in readers. At times she was lost in the havoc and was not her spunky self like in book one. Piper goes through a LOT more problems, destruction, and dilemmas that leaves her spinning bringing her character through much turmoil. That's another reason what I like best about this author. Her characters are not invisible nor can the world be saved or solved over night. Piper's still awesome and does not fail us with her smart ass comebacks!
"He likes lots of other costumes too," Piper chirped. She flicked her gaze toward Annabelle's ridiculously low-cut neckline and frowned. "But he's not into the 'cheap hooker' look. Like you said, good thing you're not sleeping your way up. 'Down' is more your direction."
Ash! What is Ms. Annette building too?? The romance is tethering on the edge. Is it going to happen and she's endlessly teasing us! Not nice, not at all. Just kidding, who am I fooling! I will continue the torture of anticipation of match made in daemon world!
For the briefest moment, his lips hovered over hers, almost touching. Their breaths mingled. Her heart tried to stop. Her fingers twitched. His mouth closed over hers. Heat swept through her. She arched into him. Her hands tightened in his hair, pulling his mouth harder into hers. He responded in kind, pushing her into the floor until all she could feel was him, his heat, his strength. His teeth nipped her lower lip, the gentle bite a dizzying contrast to the aggressive way he pinned her. She pulled on the back of his neck, demanding more. He fit his mouth over hers, his kiss fierce and ruthless. She slid her hands to his shoulders, fingers urgently digging into his flesh.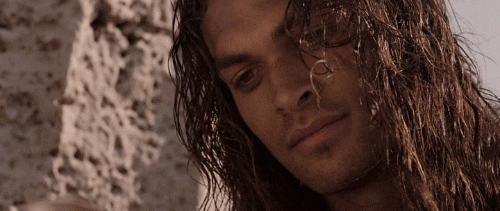 What I dislike about series...that I have to wait in the
suspense
on when and what's to come and...oO how I want it
NOW
bwahh! Book three
Yield the Night - Amazon
available for pre-order releasing March 27. Not to
long for the
who am I joking!
CAN'T WAIT
!
Highly Recommended Read
Mini Excerpt
"Look at me." Her gaze rose to meet his icy stare. "Do you think you're stronger than me?" he asked softly.
Her brow furrowed. "Obviously not."
"I cannot keep a secret from Samael. Neither can you. You are not strong enough to survive this world. What Samael does to daemons to make them obedient would kill you." She balled her hands into fists. It didn't stop them from shaking. "Whatever he wants to know, he will learn," Raum said passionlessly. "That is the reality. There will be no rescue. There is no escape. You belong to Samael now."
She swallowed, her mouth dry as dust. "I don't want to die." His expression didn't soften. "Death is easy. Living is difficult." He rose to his feet. "Come." "I—I'm not ready." "Now."